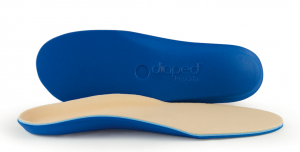 Easily modified triple durometer orthoses. Rigid EVA base provides subtle functional control for the diabetic foot.
Excellent shape retention and support thanks to quality PORON cushioning and a superior EVA base. Flat base provides the option of modification with the Podotech range of wedges if more functional control is required.
Plastazote top cover, Poron cushioning and a high quality EVA base.
Long-lasting orthotic.
Commonly used for the high-risk foot in diabetic footcare.
Designed to fit in both traditional footwear and 'additional depth' orthopaedic shoes.
Foto, J. G. & Birke, J. A., 1998. Evaluation of Multidensity Orthotic Materials Used in Footwear for Patients with Diabetes. Foot & Ankle International, 19(12), pp. 836-841. – http://fai.sagepub.com/content/19/12/836.full.pdf+html (Diaped Duosoft Trisorb)