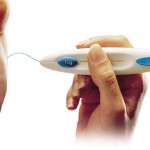 Portable diagnostic tool for testing loss in sensation in the diabetic foot.
Monofilaments are designed to test the loss of sensation in the feet of diabetic patients.
If a patient cannot feel a 10g monofilament then they must be considered to be at risk from developing a neuropathic ulcer.
The introductions of Duraban has given the monofilament anti-microbial properties ensuring it meets decontamination and infection control requirements.
Measures both the diminishing and returning sensation, ideal for screening peripheral nerve impairment and detecting changes in neurological status.
Monofilaments resist damage, thus saving time and expense of replacing and recalibrating.
Monofilaments are portable, practical, compact and easy to use. Ideal for the busy clinician.