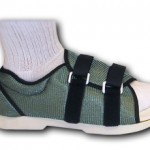 Provides protection and stability for the foot following surgery.
Semi rigid sole provides ultimate protection and control while the reinforced heel counter provides extra stability for the rear foot.
The soft nylon mesh cover is breathable. The design features hook and loop strapping and dual side closure system to accommodate bulky dressings.
Ideal for indications following post osteomy surgery and trauma.