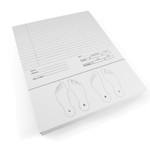 These double sided cards can be used during assessment that considers previous podiatry treatment and patient expectations, before establishing a treatment plan in partnership with each individual.
The treatment planning process requires the podiatrist and patient to work towards identified goals.
It identifies the level of 'risk' to a patients foot health.
The process eliminates ineffective, repetitive, symptomatic relief by recognising causative factors and underlying pathologies.