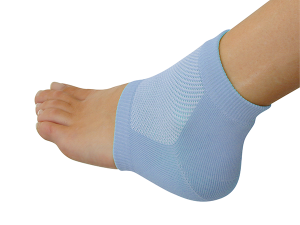 Gel heel sleeve provides deep hydration to dry, chafed, cracked or damaged skin.
Soft stretch fabric easily rolls on to cover the heel and hold anatomically designed gel pad securely in place.
New vented fabric design allows for breathability of the skin.
Dermatologist tested gels can be custom formulated to include natural vitamins or essential oils, botanicals and sensory fragrances.
Moisturise and soften the foot as well as heels and toes.  The proprietary gel lining releases a combination of skin nourishing hydrators, which help soften and improve the foot's appearance.