There are numerous diabetic foot orthotics on the market that provide a 'cradling' effect for the foot, but very few that use bio-mechanical principles to off-load the forefoot, as does the Interpod Diabetic.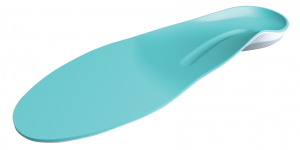 Research has proved that by controlling the rear foot, you can relieve pressure on the forefoot and improve bio-mechanical function.
A moderate 6° arch height and profile design of the Interpod Diabetic aids both control and comfort, and therefore patient compliance, but still provides adequate off-loading.
In addition to this, the Interpod Diabetic also incorporates a PORON 96 top cover. PORON 96 is a slow memory, medical grade cushioning polyurethane foam memory that cradles the foot and allows enhanced redistribution of body weight over the foot's plantar surface.
Why prescribe an Interpod Soft Diabetic orthotic?
3mm thick Open Cell Urethane – PORON 96 – has been proven to significantly reduce vertical pressure and sets a new level of advanced underfoot comfort technology.
The diabetic orthotic gains its advantage over other foot orthoses due to the superior 6° rear foot and mid foot support, offloading weight from the heel and forefoot.
The polyurethane base if a proven superior shock absorbing material capable of reducing and transferring unwanted pressure from prominent bony structures.
Features:
Shock absorbing Polyurethane base
Rear Foot Wedge
Cuboid Notch
Plantar Fascial Groove
Paton, J., Stenhouse, E., Jones, R. & Bruce, G., 2007. Custom-made total contact insoles and prefabricated functional diabetic insoles: A case report. The Diabetic Foot Journal , 10(3), pp. 138-143.