Fast and efficient method for identifying foot types Foot impression sheets can dynamically identify foot type in less than 60 seconds.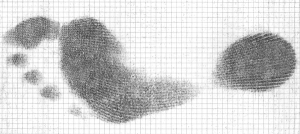 All your patient needs to do is step on and off this unique 'pressure sensitive paper'. This simple walking motion provides you with a permanent foot imprint for sizing and fitting your customer to just the right shoe – without messy inks or expensive computer software.
The detailed print made on the sheet is made visible on the pattern printed on the bottom sheet, so you can measure the areas of various pressure regions.
A proper fitting shoe is essential for those customers with diabetes, particularly those with a high arch. If desired, outline these pressure areas with a water soluble ink marker.
Advantages:
Instant biomechanical analysis.
Helps to ensure a better fitting shoe or foot orthotic.
Offers the potential to identify serious foot problems.
No messy inks or expensive computer software.