For use with casts and walkers, this device is ideal for the treatment of knee pain, hip pain, lower back pain, general rehabilitation.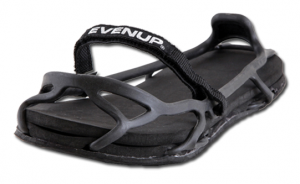 Features:
Simple and inexpensive way to equalise a patient's limb length while walking in a leg cast of cast boot.
If one leg is shorter than the other, the Evenup makes both legs even in length.
Easy application and adjustment with nylon straps, thermoplastic rubber uppers and hook & loop closure.
Fits a variety of shoes; easily moved from shoe to shoe.
Can adjust height from 1.3cm (1/2″) to 2.1cm (0.8″) in seconds.
Outer sole is made of comfortable and durable EVA.
Universal (fits right or left shoe)
The Evenup is very simple to apply and use. Patients that have walked for only a short time with an Evenup on the shorter limb will immediately notice the improvement in their balance and gait.