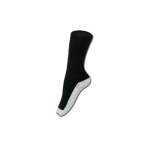 These socks have been specifically designed for the diabetic patient or those with circulation problems.
The sock within a sock design to greatly reduce the fractional forces within a shoe.
Friction takes place between the two layers of sock rather than between the sock and the skin.
Dual point Coolmax yarn wicks moisture away from the skin to keep the wearer dry and comfortable.
Ideal for the active wearer preventing the blistering which occurs with a traditional type of sock.