The ultimate for off-loading lesions of the foot to permit healing of diabetic foot ulcers and infections. The deep rocker sole contains four layers of differing density insoles that may be altered for off-loading.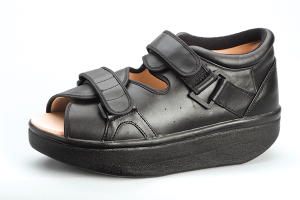 Leather upper lined with Plastazote material. Sections may be removed from the leather upper without disturbing the liner to remove pressure.
The Wound Care Shoe System is recommended for the treatment of open and closed ulcerations and other conditions of the foot in which it is desirable to redistribute weight away from specific areas.
The circumferential counter of the shoe forms a deep pocket in the sole to permit the use of a variety of insoles under the ulceration or area of pressure.
The insole material is placed below the level of the top of the circumferential counter providing greater stability for the foot by preventing the layered insoles from shifting within the shoe.