The new Darco cast shoe provides the ultimate cast protection in a new modern design that will appeal to all patients.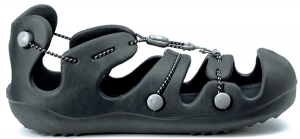 Soft but durable EVA provides shock absorption while protecting the cast from the elements. Unique bungee closure system is easy to use, easy to adjust and prevents the heel from slipping out of the cast shoe.
Soft, durable TPR.
Unique bungee closure system to seat and secure the cast in the shoe.
Provides protection and shock absorption to the casted leg.